Hypnotherapy for High Blood Pressure
Hypnotherapy Petersfield is now a certified Hypnotension Practitioner, this exciting new hypnotherapy programme works with hypertensive clients to resolve common emotional and lifestyle issues related to primary or essential hypertension.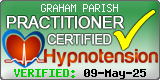 What Causes High Blood Pressure?
Over 90% of patients diagnosed with primary or essential hypertension have no clear medical cause identified by the medical profession. Doctors therefore generally only work with the presenting symptoms. And because there are so many possible combinations of emotional and lifestyle factors the medical profession often do not have the time or resources to uncover and deal with those underlying causes.
Many clients are generally faced with a lifetime of medication, worry and concern about their futures. At Hypnotherapy Petersfield in Hampshire we are able to devote all the time it takes to identify your unique emotional and lifestyle factors that contribute to high blood pressure, we then work with you to help you lower your blood pressure, often back down to normal levels.
The unique Hypnotension programme uses cognitive techniques and behavioural coaching to achieve permanent emotional and lifestyle changes and ensure lower blood pressure.
Medication for High Blood Pressure
If you are already on medication prescribed by your medical practitioner for hypertension, then we recommend that you keep on taking it, because we work in conjunction with your GP. As your blood pressure lowers your GP may be able to lower your medication in due course.
High Blood Pressure Treatment
The good news is primary hypertension can be successfully treated, as certified Hypnotension Practitioners we know that we can help you to reduce that high blood pressure for good.
For more information or to book a free no obligation consultation contact Graham by email here or telephone him on 07810 877158.